Buy HostaPedia Book Here- FREE SHIPPING
FREE SHIPPING ON HOSTAPEDIA BOOK TODAY-Hosta Lovers, Growers, Hobbyist , this Book may be for YOU..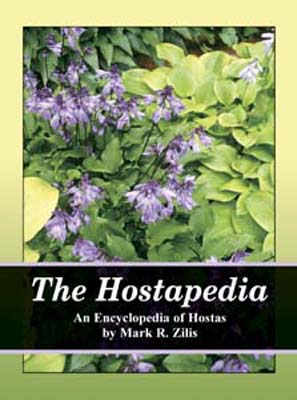 The Hostapedia

by Mark R. Zilis

In The Hostapedia, Mark Zilis describes every hosta that he has encountered over the past
thirty years. This includes forms he studied in gardens and nurseries throughout the United
States and those he observed in native habitats and collections in Japan. It encompasses all
cultivars registered with the American Hosta Society and others listed in a wide variety of
publications and websites. The color photos in The Hostapedia highlight the most important
hostas, as well as many unusual collector's plants and hosta oddities.

• Over 7400 hosta descriptions listed A-Z
• 1897 color photos
• Complete index of hosta names
• Factual and entertaining
The Hostapedia by Mark R. Zilis, © 2009,
9″ by 12″, 1128 pages, 1897 color photos, hardcover, $76.98(USD)BEST PRICE ON THE WEB
ISBN # 978-0-9679440-1-2

Sampling of the Book

Please know that FREE SHIPPING is available to all that purchase this awesome book, not only that I have a SPECIAL DISCOUNT ON THE BOOK.

If you are a serious hosta grower, being hobby or business YOU NEED THIS BOOK..

READ MY REVIEW OF THE HOSTAPEDIA

BUY THE HOSTAPEDIA TODAY @ GREAT PRICE




Please do not use text, photos, or illustrations on this web page, web site, or newsletter without express permission from Diane Mumm. Many materials are copyrighted and reuse is violation of that copyright. Use the contact form to request permission to use. Thank you!