Thunbergia- Lemon A-Peel or Lemon Star Black-Eyed Susan Vine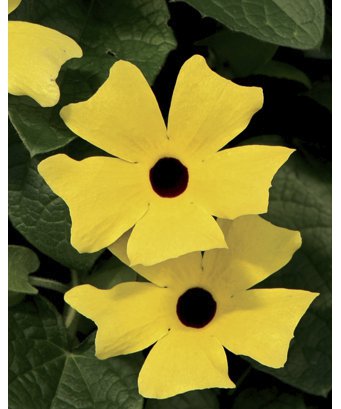 Thunbergia- Lemon A-Peel or Lemon Star Black-Eyed Susan Vine
This variety to my knowledge only comes in a plug..
You can get seed varieties similar and do pretty well , the plug however seems to have a larger flower.
This is a vine I have no complaints about , it is great for baskets, ground cover , pots..
It is a very bright yellow and stands out from the crowd.
Likes sun, blooms all season , just an all around beauty..
Requires normal moisture conditions .
Annual in most areas exept zone 10 and 11 .. Hardy to 30 degrees
Requires no deadheading , Grows 6o-96 inches long
Similar plants can be grown from seed , and are relatively easy to grow. 
This plant is a must try . It is very easy to take care of and you will love it and come back every year to purchase.
Happy Gardening
🙂
Diane Mumm