Athyrium Fern 'Ghost'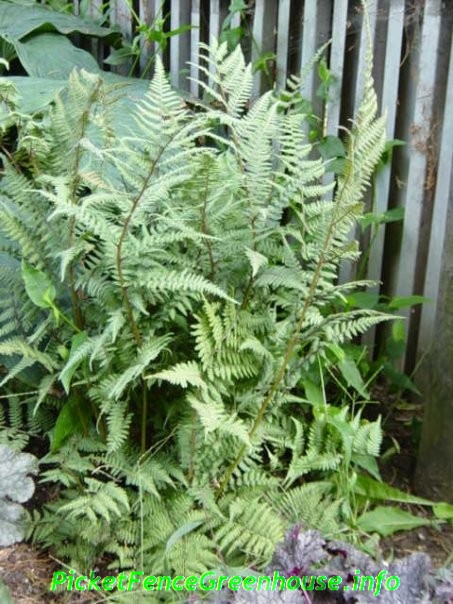 Athyrium Fern 'Ghost'
This fern is a little scary  <HeHe>  hence "Ghost"
I have fell in love with Ferns during my last few years of greenhouse gardening. Instead of the old fashioned fern you see all over and they seem to grow uglier by seasons end (at least in my area ) , there are many that display great attributes.
The Ghost Fern delights me every year , and is a great hardy choice . I love greenery and it looks awesome amongst my heurchera , especially the purple tones.
Ghost fern is a strong tall growing fern, which brings a unique ghostly gray-green accent color to the garden. It is equally effective as a single specimen, massed as a ground cover in combination with adjacent plantings of dark foliages in a woodland setting or sprinkled under the fringes of hemlocks.
It has been successfully used in Pennsylvania in full sun where it received adequate moisture.
I give my Ghost Ferns moisture with morning sun , afternoon shade here in Iowa and does well..
It is a zone 3-8 Grows 30-36 (although mine does not seem to get this high probably will vary in different areas)
Ghost Fern has a clumping habit, very neat in appearance, does not seem over aggressive at least where mine are planted. They will gradually grow wider.
Ferns are a must , if you are looking for something a little different..
Happy Gardening
🙂
Diane Mumm