Butterfly Red Pentas -A Favorite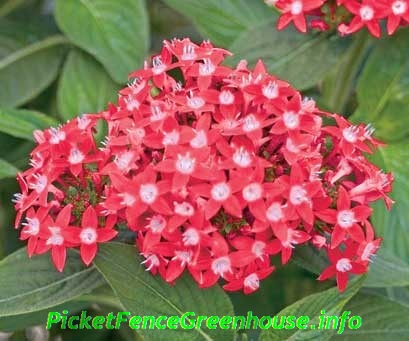 Butterfly Red Pentas
The deep green foliage of pentas is attractive, but when you add to that the bright cluster of star shaped flowers you have a knock-out plant.
This garden plant can be grown in both northern and southern garden beds and patio containers. This annual is also called "Egyptian starflowers". Pentas… are quickly becoming one of the most popular summer container and landscape plants
Another plant I adore as they tolerant our Iowa heat and humidity.. and I love plants that bloom all summer.
I have these this year in 3 colors, white, red and pink. Red is probably most popular as you know how hard it is to get a red flower..and this is pretty true to red.
You can grow from seed and also plugs.. There are different varieties of these Pentas.. and I am sure they are in some of your catalogs.
Pentas love the heat and do well in hot, humid conditions.
Spacing: Plant 14″ to 18″ apart. Height: Grows 18″ to 24″ tall.
How To Grow: Plant in full sun.
Outstanding Features: Attracts butterflies and hummingbirds.
Tips: Uses: Garden Bed, Containers, Landscapes, Indoor Plant
Happy Gardening
🙂
Diane Mumm