SuperTunia Vista Bubble Gum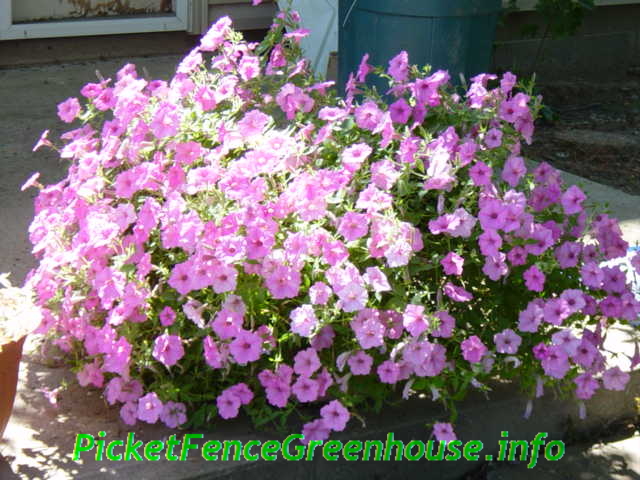 SuperTunia Vista  Bubble Gum- A  Proven Winner
This isn't any ole Petunia – The SuperTunia's  are bred for performance.
Look at this pot .. This is 3 plants and you can see how well they do, do.. I will take these petunias over any other one on the market today. I have grown these from plugs and they just out perform.. no two ways about it.
A Supertunia Vista is a Petunia. As in we're way vigorous and have a mounding/cascading habit.
So in a garden bed, border, or landscape feature we grow 16 – 24 inches tall, and spread like you wouldn't believe .  As much as 2 feet.  You want to fill an area with wall-to-wall medium pink flowers all season? I'm your plant.  Hanging baskets, window boxes, patio containers, same story.
Features:
Vigorous, mounding plants are perfect landscape fillers; blooms all season; low maintenance
• Attracts Butterflies
• Attracts Hummingbirds
• Best Seller
• Deadheading Not Necessary
• Drought Tolerant *
• Heat Tolerant
• Landscape (Professional)
• Landscape Plant
• Must Have
• Pet Friendly
 It's  disease resistant, self-cleaning, and have sturdy stems so It always look good.
Vista Bubblegum ia  an annual except in zones 10 – 11.  Hardy to 30 degrees, and  Grows 16-24 inches in height
Full sun, water and a good fertilizer will keep me in the pink until frost.
There is many supertunias on the market today, I will get them in several colors and they sell out very quickly..
You can Read more about this gem here..
Happy Gardening
🙂
Diane Mumm
2 Opinions