Perovskia Russian Sage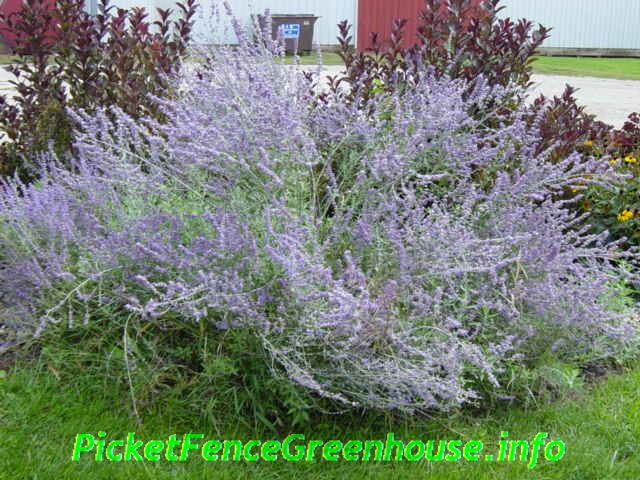 Perovskia Russian Sage
Now I love this plant for it's long blooming and sun habits. You do need to give it room however so keep that in mind . It has a sage smell and insects seems to love this plant especially bees.. good food source
Russian Sage is a woody sub-shrub with long panicles of lavender-blue flowers that become increasingly brilliant as they open.
Thou the plant is not even a sage ( could of fooled me) , and it's not Russian either. (Don't care where it is from , still love it)
Perovskia is native from Afghanistan to Tibet and was named for a Russian general V.A. Perovsky; the botanical name is Perovskia atriplicifolia.
Russian Sage was Perennial Plant of the Year in 1995.
The plant's growth habit is upright and it is a slightly woody, almost shrub-like, perennial, although its greyish leaves and stems look quite lacy and delicate-looking.
The foliage is delightful if you like aromatic sage-like scent .
The plant is a valuable long-bloomer, starting in July and going to the end of September, and sometimes even into October.
Perovskia Russian Sage likes sunny, hot and dry climates. It does not do as well in hot humid conditions , where it tends to flop
Grows 2 to 4 feet tall and about 3 feet wide . Medium to dry soil; very drought-tolerant (like all plants, do water it until it becomes established). Grow in full sun to prevent flopping.
Prune plants back in spring after growth resumes, and cut to no lower than 6 inches. This plant isn't bothered by pests or diseases, and is deer-resistant . Rarely needs division. (In fact, woody perennials can be killed by division, so propagation is best done by cuttings.)
Hardy in zones 4/5-9
Happy Gardening
🙂
Diane Mumm
2 Opinions