Catananche Cupid's Dart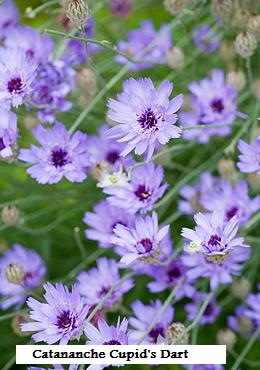 Catananche Cupid's Dart
Who doesn't  love Cupid's Dart? Once used by Greeks for a love potion.
A wonderful flower fresh or dried.
Perfect in mass or as a specimen plant.
A nice touch for container gardening too!
The lovely lavender flowers will turn silver as fall approaches.
"Cupid's Dart" is an EASY to grow, drought tolerant, problem free perennial.
2″ wide soft lavender blue flowers are produced freely in summer atop silvery-green foliage.
Plant in a sunny area, grows 18-24 inches tall .
Hardy in zones 4-10
I love this color I am excited to see how close the color really is . It is a beauty!
Happy Gardening
🙂
Diane Mumm