Ipomoea Mina Exotic Love Vine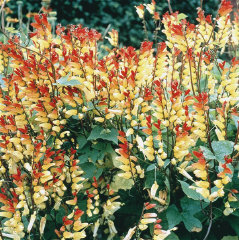 Ipomoea lobata Mina Exotic Love Vine
Also called: Spanish Flag or Firecracker Vine
This is a stunning, vigorous and easy to grow climber for a sunny or part sunny position.
Each 6″ spike starts out crimson and gradually changes to yellow then finally to white-1-1/2″ blooms start out rich red, maturing to orange, then yellow, to white …all colors on the same plant at the same time!
Tender perennial grown as a annual.
Perfect for a fence, trellis even adaptable to growing in containers!
These colors are definitely beautiful. This plant is attractive to bees, butterflies and/or birds
Grows 8-10 ft vines. Plant in  part sun to part shade  area, Blooms late summer – early fall.
I find this vine very interesting , and love it's attributes.
Happy Gardening
🙂
Diane Mumm