Rhodochiton Purple Bell Vine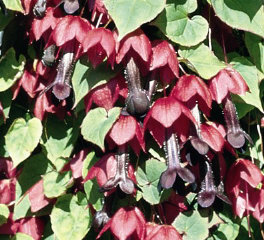 Rhodochiton Purple Bell Vine
Heart- Shaped leaves, climbing , twisting stalks and a fascinating, dark purple bloom with an umbrella-shaped fuchsia-hued calyx which remains after the center has fallen.
Use in hanging baskets or trellises.
Early and Free flowering. Appears to flower from  mid summer to autumn.
Grows 72-84 inches.
Plant in sun to partial sun area . Perennial in frost free climates . Try it as a houseplant!
Whether you grow this in the ground as an annual or in a hanging basket, it will bring you a long season of flowers and add an exotic touch to your garden.
This is a interesting plant and will be one I am starting from seed, I have never offered this plant before but am anxious to see how it does in our area.
Purple bells will be treated as a annual here in my zone of 4/5
Happy Gardening
🙂
Diane Mumm