Rosemary Herb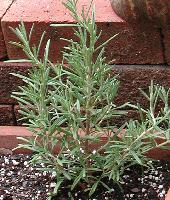 Rosemary the Herb
Rosemary is very aromic with it's warm , tangy flavor of the leaves.
Rosemary is one of those wonderful herbs that makes a beautiful ornamental plant as well as a welcome culinary seasoning.
Its Latin name, Rosmarinus officinalis, means "dew of the sea" and rosemary is most closely associated with the cooking of the Mediterranean area. However you don't need perfect sunshine, sea mist or even a never ending summer to successfully grow rosemary. In fact, more rosemary plants suffer from too much attention than from too little.
It is popular for flavoring meats and soups. To add zest to grilled beef, chicken, or ribs.
Planting Rosemary from seed take a lot of time and patience, you may be better to buy a plant already started, as it is slow growing.
Rosemary can be brought indoors in colder climates and used as a houseplant. You'll love the fragrance it emits to the air once brushed with you hands , or cut a few snips and use for cooking..
If your winter temperatures dips below 3o degrees, rosemary plants will have to spend the winter indoors. In this case, growing rosemary in a container is the best decision.
Rosemary likes to be on the  dry side, terra cotta pots are an especially good choice. Just be sure it doesn't bake and completely dry out while outdoors during the summer.
Rosemary is a very nice herb choice , and smells wonderful, give it a try!
Happy Gardening
🙂
Diane Mumm
2 Opinions