Thunbergia Blushing Susie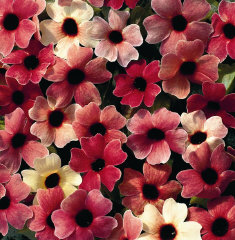 Thunbergia Blushing Susie
The only red Thunbergia we've found whose blooms genuinely are mostly red, with occasional apricot and ivory accents. All on the same plant!
A spectacular climber with red petals and a cottage garden heritage updated by years of careful breeding.
The blooms are a good size, held wide open and measuring about 1 1/4 to 1 1/2 inches across.
They are VERY profuse, simply covering this diminutive 3 to 8 ft. vine over a long early-summer-to-frost season.
Talk about long-blooming — Blushing Susie keeps you in color for up to 6 months!
Electrifies in  containers, baskets, trellises and garden fences.
Happiest in full sun and moist, well-drained soil.
I love this vine, easy to grow and blooms and blooms.. It is a winner in my book.
Happy Gardening
🙂
Diane Mumm