SEDUM lineare 'Variegatum'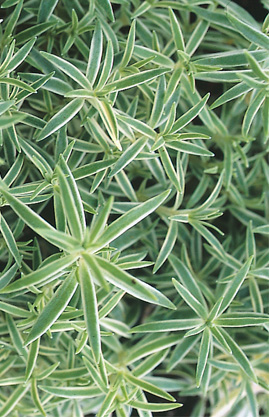 SEDUM lineare 'Variegatum'
Narrow, succulent, silvery-gray foliage with creamy-white edge. Excellent selection for troughs or trailing in containers.
Each 1′ long stem is adorned with 1″ long, narrow leaves, green with contrasting white edges.  this sedum  rarely if ever produces flowers, which would be in short panicles of yellow.
When grown in shade the growth will appear upright and lays down after it matures with time.
This is a superb garden plant, or in more northerly climates, equally as valuable in containers or hanging baskets.
Plant in Part Sun to Light Shade
Zone: 7-9, at least 4″ tall , can also use as a houseplant .
Again . variegation of any plant is a sight to see.
Happy Gardening
🙂
Diane Mumm