THUNBERGIA battiscombei 'Blue Glory'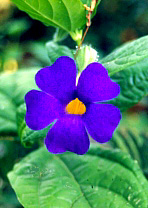 THUNBERGIA battiscombei 'Blue Glory'
Small spreading bush, not as viney as some thunbergia, would also work well in containers or baskets.
Continuous, 2″, blue flowers (best show in spring) on trailing, spreading vine for containers or filler.
Needs full sun partial shade depending on heat tolerance area, ample moisture, and feed.
This plant is attractive to bees, butterflies and/or birds
Cold Hardy 20 degrees. Hardy in zone 9-11
This is a new thunbergia I will try out this season. I love thunbergia for their bloom time and color..
Happy Gardening
🙂
Diane Mumm
4 Opinions