2011 Hosta of the Year Praying Hands – Resembles Hands Folded in Prayer
Every year the American Hosta Growers Association chooses a Hosta of the Year.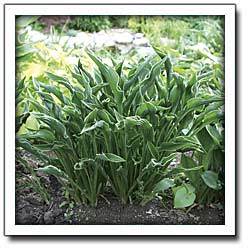 Each year everyone is eager to go out and purchase this hosta because of it's notoriety.
The hosta of the year is special and is recognized throughout the gardening industry, why wouldn't you want to add this variety to your hosta collection.
The 2011 Hosta of the Year is Praying Hands, special regards to breeder Jerry Williams for bringing us this very unique unusual hosta variety.
Many hostas have names and can be included in your landscape for a variety of reasons and causes, just because of name sake and here is one example.
Praying Hands Hosta makes for a great plant to grow in memorial gardens, a special garden where you are honoring either a special loved one, a pet, etc.
Praying Hands hosta is a small curled leaved hosta with a touch of white to goldest edging, very unique and unusual attributes that some say doesn't even look like a hosta, but if you are looking for a smaller hosta this may be one for you to add to your hosta collection.
Let's talk more on the attributes of this unique, much sought after Hosta
Praying Hands has twisted, folded, wavy and narrow leaves that grow upward in a vase-like fashion that resemble hands folded in prayer.
Since this Hosta is in smaller nature, it will do great in container gardening. Grows to a height of just 14 inches, scape height to 18 inches and a spread of 18 inches.
Praying Hands Hosta grows in Zone 3,4,5,6,7,8,9 Blooms purple shade flowers in Late Summer. It's growth rate is rated as a medium grower.
To grow the very best hostas, plant in shade to part shade area, not recommended is hot afternoon sun and grow where the soil is dark and a extra touch of enriched with organic matter never hurts.
Hosta's are relatively easy to grow and will reward you year after year with an abundance of new growth.
In closing, Praying Hands Hosta is a must for anyone's Hosta collection.

Happy Gardening
🙂