Supertunia Pretty Much Picasso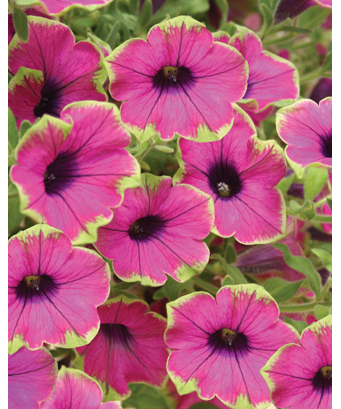 Photo courtesy of Proven Winners – www.provenwinners.com
Supertunia Pretty Much Picasso
All I can say is "Wow".. Petunia lovers  what do you think of this Supertunia?
Supertunias have been on the market for a few years now and each year new supertunias are coming out with excellent vigor and outstanding colors.
In 2009 a unique speciman of a petunia arrived on the market.  Supertunia Pretty Much Picasso , what a special name and for good reason,  just look at the coloring , very different to say the least.
Unique flowers sporting violet purple flowers edged in lime green. This vigorous plants is great for mixing in combination with other vigorous plants.
Supertunia Pretty Much Picasso can be planted in pots, baskets, landscapes, it is classified as a spiller – trails over the side of any container.
Special Features include:
• Attracts Butterflies
• Attracts Hummingbirds
• Best Seller
• Deadheading Not Necessary
• Drought Tolerant *
• Heat Tolerant
• Landscape Plant
• Low Maintenance
• Pet Friendly
Grows 8-12 inches tall with a spread of 36 inches and likes to grow in  a sun location.
Blooms from planting to a hard frost.
It is hardy to 30 degrees and is a annual except for Zones 10-11.
This should be a definite must for anyone looking for something unique and different.
Will I offer this plant, if I can get it, I will have it available.
Happy Gardening
🙂