Petunia Phantom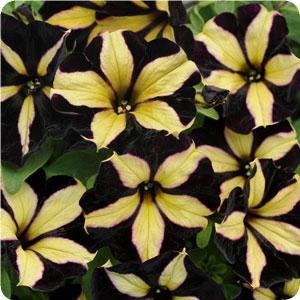 Petunia Phantom
Phantom shows off a black base color with a distinctive yellow star pattern.
It's one of several "black" petunias that will be  introduced and on the market for sale   in 2011.
July 24, 2010: It's official! The winner of the 2010 Fleuroselect Industry Award is Petunia x hybrida 'Phantom' from Ball FloraPlant, West Chicago. The unique flower colour combination of this novel Petunia captivated the 28 international judges.
That is pretty impressive!
Petunia Phantom grow's 8-12 inches tall, Plant in a sun location.
Hardy to 32 degrees.
I am ready to try Petunia Phantom in the year 2011.