SuperTunia Bordeaux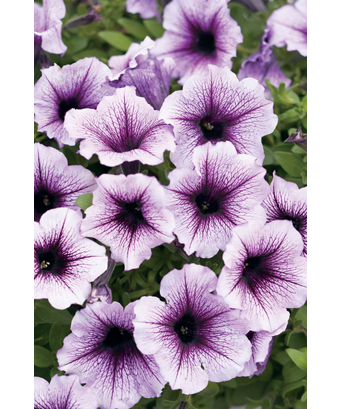 SuperTunia Bordeaux
Another gorgeous Supertunia beautifully pinkish purple  petunia  veined  with deep plum-burgundy veins.
If you haven't ever planted or seen Supertunias , you are in for a treat.
Vigorous long blooming petunias that last throughout the season.
Many love petunias,  from the old fashion upright petunias to now the cascading supertunias that really will outdo many petunias on the market today.
Features
Blooms all season with pink flowers highlighted by deep plum-burgundy veins; vigorous plants; fertilize often; low maintenance
• Attracts Butterflies
• Attracts Hummingbirds
• Best Seller
• Deadheading Not Necessary
• Drought Tolerant *
• Heat Tolerant
• Landscape Plant
• Low Maintenance
• Must Have
• Pet Friendly
SuperTunia Bordeaux is classified as a spiller plant , which trails over the sides of pots and baskets.
Grows 6-10 inches tall with a spread of 48 inches.
Hardy to 30 degrees, and is a annual except for Zones  10-11.  Loves to be planted in a sun location.
Uses: Landscapes and containers. Plant alone or in combinations in all container types and landscapes.
Will be available in Spring 2011 at Picket Fence Greenhouse .
Photo and video courtesy of provenwinners.com