Hosta Blue Mouse Ears 2008 Hosta of the Year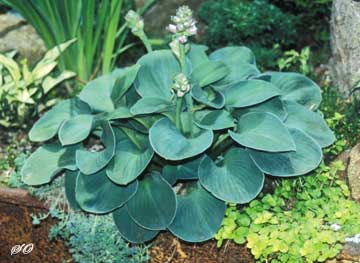 Hosta Blue Mouse Ears
Hosta Collectors take a look at this one, Dainty,  small but this doesn't stop it from having  that hosta appeal.
Hosta Blue Mouse Ears was awarded the AMERICAN HOSTA GROWER'S ASSOCIATION 2008 HOSTA OF THE YEAR.
Important points to make that this blue hosta is  one of the best small hosta introductions since the formation of the American Hosta Society in 1968; small, cupped, blue-green foliage in a low, tight mound; very attractive purple flowers; developed by Emile Deckert of Maryland (2000 AHS registration)
Classified as a mini hosta , or miniature blue hosta. Grows 8 inches high by 19 inches wide.
Leaf Detail is beautiful Blue, with a size of 2 1/2" long by 2 1/4" wide; bluish green; nearly round shape; very thick substance.
Hosta Blue Mouse Ears has dense clusters of pale purple flowers in July,   with 12" high scapes
Zone hardiness is Zones 3-8, and plant in a part shade to shade area.
Diane's Notes: Beginning in 2010 I started adding minature  hostas to my collection. This one is a treasure to have . I love the look , the shape of the hosta leaves, and it has a nice mounded habit.. Look forward to seeing how they do and grow next year.  Don't be afraid to try this one, and one more thing.. Hosta Blue Mouse Ears will be ideal for containers.
4 Opinions