Growing and Storing Caladium Bulbs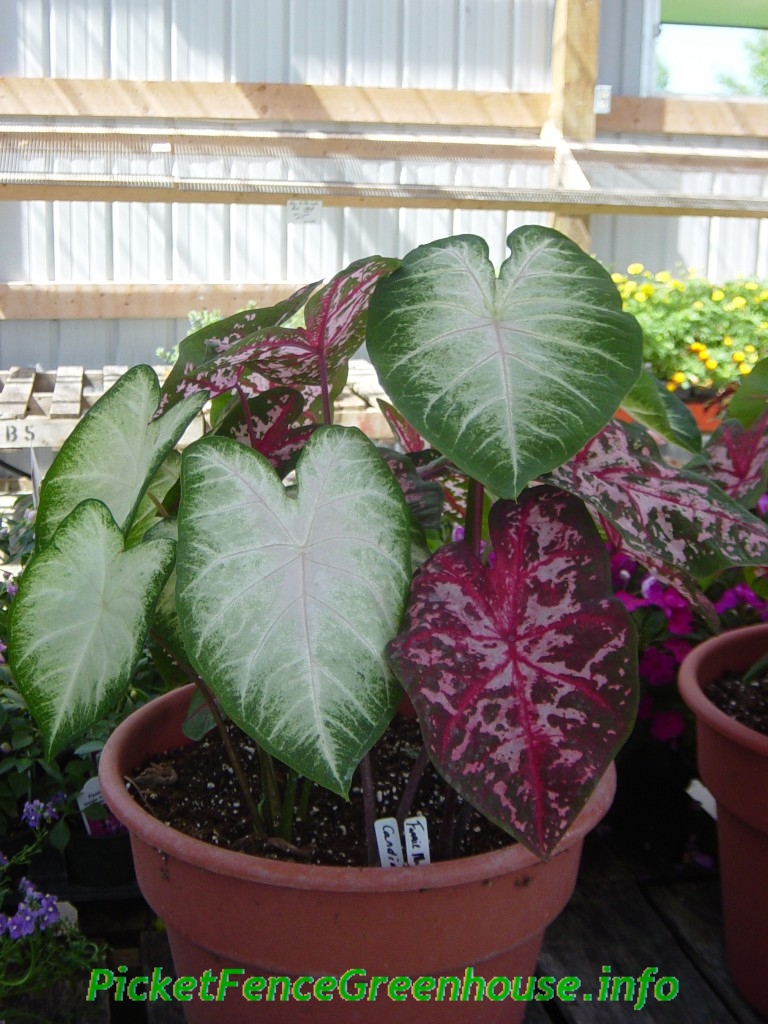 Caladiums are grown for their beautiful foliage color.
Caladiums standout  in shade gardens with their large, pointed arrow-shaped leaves splashed with shades of green, white, cream, pink and red.
They are considered a tropical plant, meaning they like to live in a warm climate area.
To get a head start in spring , start your tubers inside in a warm area 4-6 weeks before you last frost date , they do well with bottom heat and will take a few weeks to show signs of growth.
Wait until the soil warms  to around 6o degrees outdoors before planting your Caladiums.
You will enjoy foliage color all summer, mix them with Hostas, Ferns, shade loving plants.
To be used in containers or planted directly in the ground.
If planted in the ground they must be dug before a killing frost, you will know when they are stressed if they seem wilted and droopy from the cold. After you dig them , find a box or storage container of some sort , add some peat moss , cut the leaves down to the growing point and place in the container . Check them in the winter months not letting  the soil completely dry out , as the bulb will shivel up.
Containers can be brought in and place in a cool area to winter .  You can leave them in the containers, keep them on the dry side but do not let the soil completely dry out.. Don't let the temperature get below 55 degrees, keep and eye on them over the winter months.
If you are fortunate and bring the container in before cold weather comes, then try your hand and use them as a houseplant. Inspect for bugs and place by a window for the winter months.
When spring arrives the following year, divide the tubers and place them in individual pots , place in pots that have a peat /perlite mix soil and plant  about 2 inches deep,  cover with soil , keep moist and keep them warm and wait for growth to appear.
Caladiums  Are hardy in Zones 9 – 11 , otherwise plant as a annual .
Grows 18 -24″ H, (Dwarf varieties 8 -12″), Width varies with cultivar and age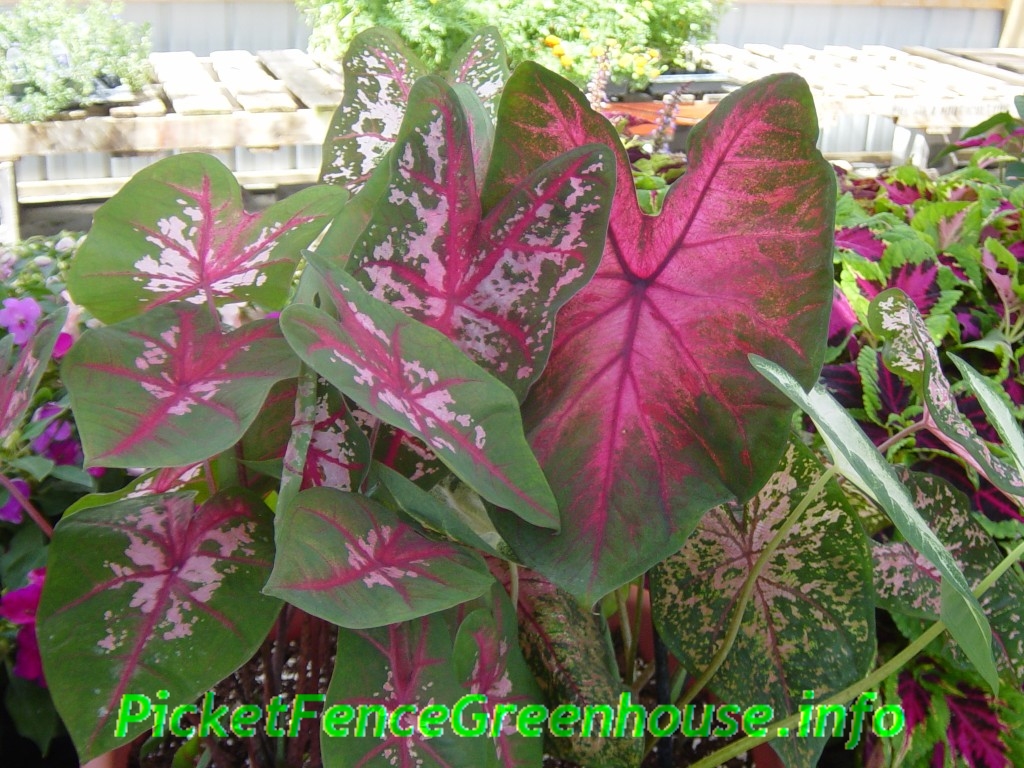 Suggested Varieties:
Caladium bicolor 'Freida Hemple' – Bright Red Centers and wide green margins
C. B. ''Little Miss Muffet'- small, lime-green leaves with deep red speckles and often red veins
C. b. 'Pink Beauty' Pink centers surrounded by pink-speckled green margins, often with red veins
C. b.'White Christmas' white leaves with green veins.
Sun Tolerant Varieties Include: 'Carolyn Whorton', 'Florida Fantasy' & 'Pink Cloud'
Caladiums do require some Maintenance:
Winter Care in Cold Zones: If grown outdoors in a cold climate, they can be considered annuals or you will need to dig and store the tubers over winter. Do not wait for them to be hit by frost.
Division: You can divide your Caladium tubers in the spring, to create more plants. Cut the tuber into sections that each contain at least one eye or knob and pot or plant as normal.
Houseplant Care: When growing Caladiums as houseplants, water whenever the soil feels dry and feed monthly. Begin watering less in autumn, as plants naturally stop growing.
Problems: Although Caladiums are carefree growers, they can be subject to the following problems if growing conditions are not ideal: tuber rot (especially if planted outdoors in cold, wet soil), Southern blight, leaf spot and root-knot nematodes. Indoor Plants: aphids and spider mites.
Parts of this article was courtesy of
What have been your results growing Caladiums, post a comment below , I'd love to hear from you.:)
Fertilize your caladiums organically with  Alfalfa safe conditioner today
Order Now
3 Opinions