Manfreda Mangave Bloodspot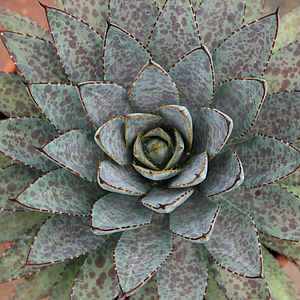 Photo courtesy of Tony Avent of Plant Delights Nursery
Manfreda Bloodspot
Take a look at this beautiful succulent , honestly this has to be one of the best colors combinations in the succulent world.
This plant is relatively new , introduction in 2008. .
Bloodspot forms a symmetrical clump of thick blue leaves peppered with cranberry spots.
The leaves are outlined with maroon edges that terminate in a small spine.
Mature to 1-foot tall by 15 inches wide.
Bloodspot is a interspecific hybrid between a manfreda and Agave macroantha.
Excellent as a container plant or for specimen use in frost free climates.
Low water usuage is Winter hardiness 25 – 30 degrees.  Hardy to zone 10 and higher outdoors, those zones lower can bring indoors and use as a houseplant.
Grow in full sun area .
A wonderful beautiful succulent , and will be a great addition. Unique coloring, wonderful for containers makes this succulent a must have.
Happy Gardening!
6 Opinions