Echeveria Perle von Nurnberg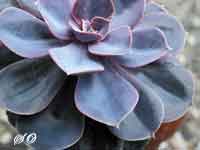 Echeveria Perle von Nurnberg
What a  sweet succulent! Which means extra beautiful. Hoping to get some more photos soon, truly excited to have this added to my collection of succulents.
When it comes to succulents color and textures,  this one really stands out. Giving us such beauty as it grows and matures.
I don't know about you , but succulents have become my weakness when purchasing plants. My basement is now taken over by them and hopefully will be able to thin them out come Spring.
Rosette forming succulent of pale grayish-brown foliage with pinkish highlights and a white powdery dusting on the leaves.
Coral flowers with a yellow center appear on a 1-foot long reddish stem in the summer.
Grows to 12 inches by 12 inches. For full sun in well-drained soil or in a container in full sun in zones 9 to 10, and Hardy to 25 degrees
Plant origin states from Mexico, and is in the family Crassulaceae (Stonecrops).
Noted as the most beautiful plant one can grow, easy care and low water drought tolerant plants.
Here is a little History on this succulent Echeveria Perle von Nurnberg.
This plant is a hybrid between Echeveria gibbiflora 'Metalica' x E. potosina (now E. elegans) that was created by Richard Graessner of Perleberg, Germany in the 1930's, who was considered a famous succulent plant grower in his time.
Many succulents do well indoors as houseplants, but do prefer staying on the cooler side, especially those that tend to  stretch, but I have had really good results with most succulents only a few seem to require cooler temps to reduce stretching.
Enjoy your succulents, if you don't have any, they are becoming very popular on the market. Most nurseries and garden centers  carry some varieties of succulents.. So watch for them!
Happy Gardening
Diane Mumm 
8 Opinions