Heuchera Marvelous Marble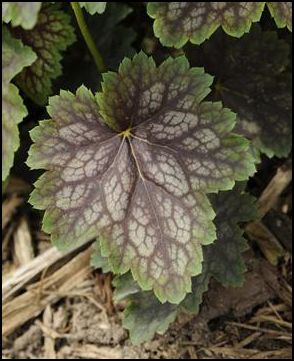 Photo Courtesy of Walters Gardens, Inc.
Heuchera americana Marvelous Marble
Yet another beautiful Heuchera that will be all mine this Spring.
This Heuchera is grown from seed, many will love the ideal of growing their own , but having a finished plant will give you  a much clearer headstart and produce fast gratification.
One thing special about Marvelous Marble is that the color changes throughout the season.. What a great feature!
During the Spring months, the new foliage starts out as purple color. As the season moves on , the foliage changes to deep green with reddish purple veining  and an added feature is a light silver overlay.
Bears short creamy white flowers , and blooms a little earlier than other Heucheras.
Grow in a sun to partial shade area as you would with most Heuchera.
Grows 8-12 inches with a 16 inch spread,  and is Hardy in zones 4-9.

Heuchera's are so loved for their foliage , if you haven't had them in your landscape they are a must have. Relatively easy to grow and maintain.
Heuchera is one of my ultimate favorite perennials here in Iowa. I have several varieties now and will keep adding as long as I don't run out of room.
Happy Gardening
Diane Mumm
2 Opinions