Heuchera Kassandra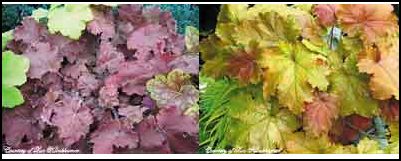 Heuchera Kassandra
Another Heuchera with  great promise as the colors change throughout the season, making for a interesting changes and features .
Vigourous grower that shows  leaf changes through the seasons.
In the spring months it emerges in reddish brown tones  to orange yellow  brown tones in fall months.
Blooms white flowers in July on clump forming months that grow 20 inches tall.
As most heuchera hardy to zones 4-9, grow in a well drained soil and plant the crown slightly above ground, do not bury.
Will be new to the greenhouse Spring 2011.
Happy Gardening
Diane Mumm