Heuchera Miracle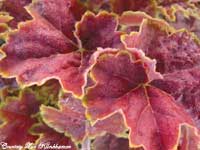 Heuchera Miracle PP#20,274
You would think after over a dozen different heuchera's I would have enough but really since they are coming out with more and more colors , shapes and textures, resisting is very tough.
Heuchera Miracle has a special name with much meaning and could be used for that special moment in people's hectic lives where we all face some challenges, this  immediately was my thought and I love plants that have special names.
A Heuchera that emerges chartreuse with a central pattern of beet-root purple..
As Heuchera Miracle matures colors with change from a mature brick-red with a chartreuse -yellow margin.
Heuchera look great in a part sun to partial shade area, and must have well drained soil.
They look beautiful in the ground as edging , mass plantings ,  and pots with combination plantings ,  known for their beautiful eye catching foliage.
Pink flowers compliment  this beauty in late spring . Grows to a 12-18 inch clump and is Hardy in zones 4-9.
Again another Heuchera I am pleased to offer Spring 2011.
Happy Gardening
Diane Mumm
2 Opinions