Cobaea Cathedral Bells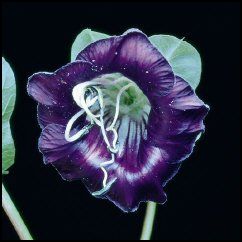 Cobaea Cathedral Bells
This cobaea vine will be a new one for growing here in Iowa, honestly I am not sure how well it will do, but I am willing to  take the gamble.  Cathedral Bells is  also know as cup and saucer vine.
I found two different photos online , one must be enhanced with color, and the other well probably is more like the end result, but  I will see for sure once I grow them beauty spring 2011. I hope to have my own photo  to add to this post later on.
The cobaea vine produces large and fabulous  exotic looking blooms . Buds open to a creamy green, then changes to a rosy violet and again changes to a mature rich purple. I don't know about  you but this sounds like a very eye catching vine.
Cup-and-Saucer takes its name from the bloom form–the big cup-shaped blooms arise from a cluster of petals, surrounding the base like a saucer!
A charming effect, enhanced by frilly, curlicued anthers of chartreuse emerging from the white-streaked throats of these huge, silky blooms.
Grows to a length of 20 ft, and is considered to be very vigorous . Does not have many pest problems and is said to be trouble free.
Hardy in zones 9-10 , grow in a sun area, uses average watering  needs.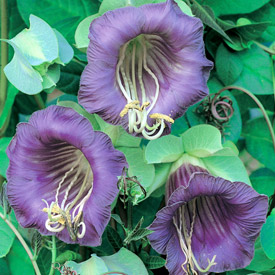 One thing about growing different and unusual plants , is  there seems to be many different results on growing in areas thoughout the world  , so the best way to know is to grow it yourself in your own zone  area  , to see if they indeed grow well .
This is what makes growing so much fun.
Happy Gardening
Diane Mumm