Miniature Hosta Peanut
Miniature Hosta's are very popular these days . I have a whole collection of them, but I working my way into more mini's now . When will the passion for Hosta's stop?
Meet  Mini Peanut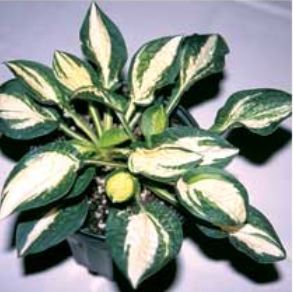 White Center 4″ long by 2 3/4″ wide; dark green margin that sometimes streaks into the creamy yellow to white center; heavily corrugated; ovate blade shape
Grows 6″ high by 18″ wide
In mid July-August purple flowers will put on a show..
Hosta Peanut has a medium growth rate.
Would work great in small spaces, containers, fairy gardens,etc