DianeMummGardenVideos Now on Facebook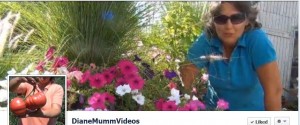 Hi everyone, Just wanted to share with you I have added my DianeMummVideos to facebook.. Those of you that like to spend some time on facebook come on over and Like my new Page.. On this page I will be sharing all kinds of fun gardening videos, photos , and giveaways.
Giveaways here on my facebook page will be only for you , at least you will have first chance at all free giveaways .. a huge incentive..
Remember to share this page and add to your favorites cause each post is full of fun videos and or fun giveaways.. You don't want to miss out!
Visit and LIKE this page and come back often, comment and ask questions..
DianeMummVideos Page on Facebook
4 Opinions