Ornamental Grasses

Ornamental Grasses- Perennial and Annual Species
 Ornamental Grasses that grow in my area Zone 4/5,  I also will be adding some really nice annual grasses that we grow in our area. Grasses have become a popular landscape plant for  good  reason.  They make  a great accent plant in backdrops  , anywhere  you plant them..
Many ornamental grasses are also known for low maintenance. Many people are looking for plants that require less care, and grasses is a great choice.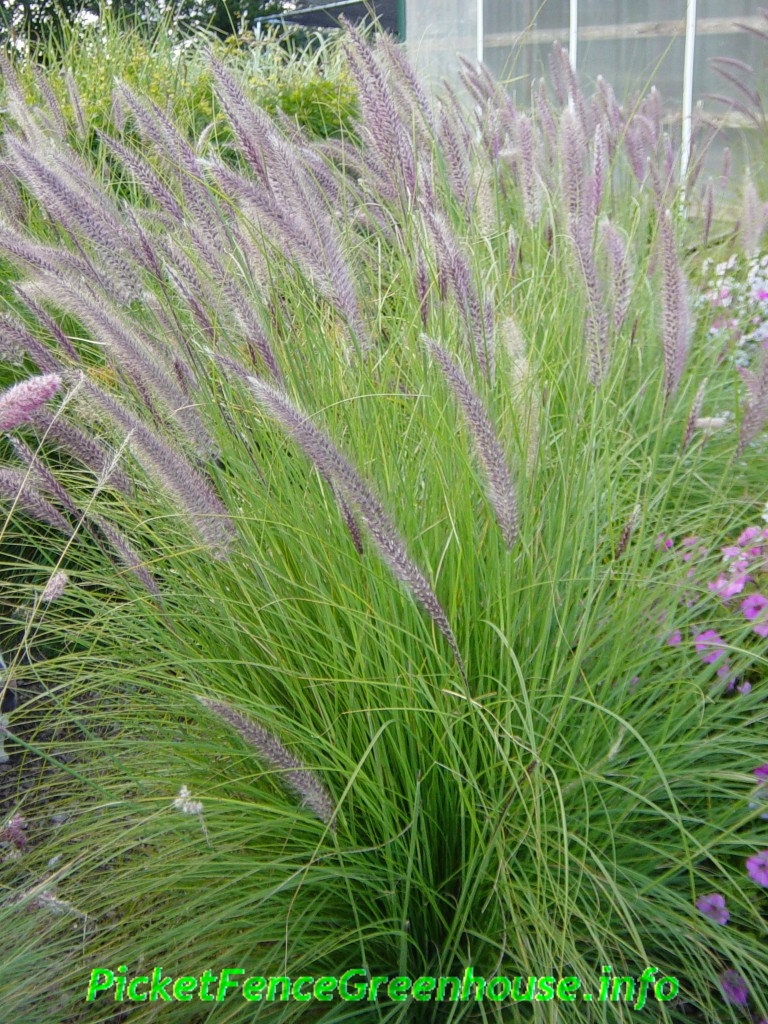 Pennisetum Mountain Ruby Grass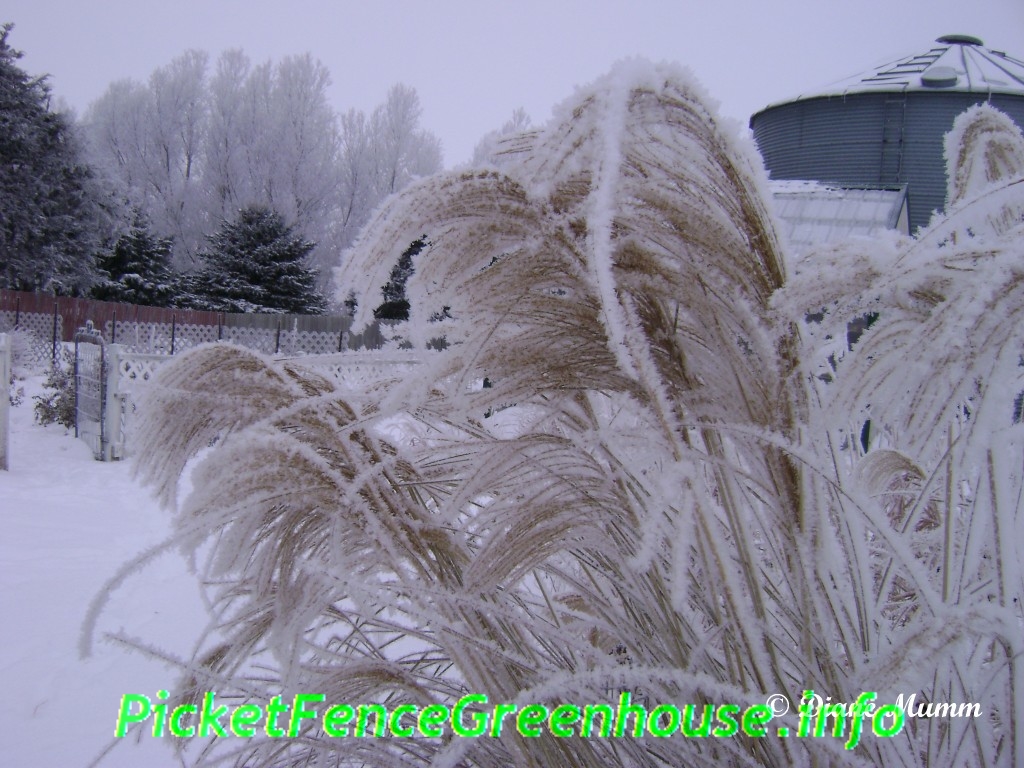 Winter Interest with Ornamental Grasses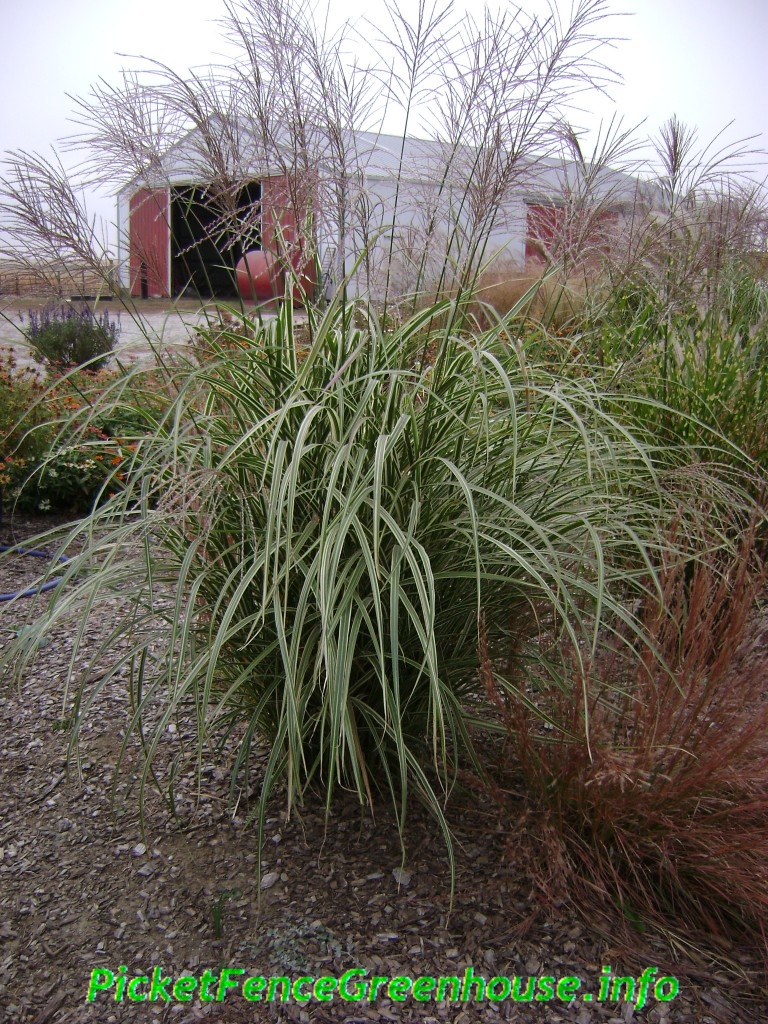 Miscanthus Silberpfeil Japanese Silver Arrow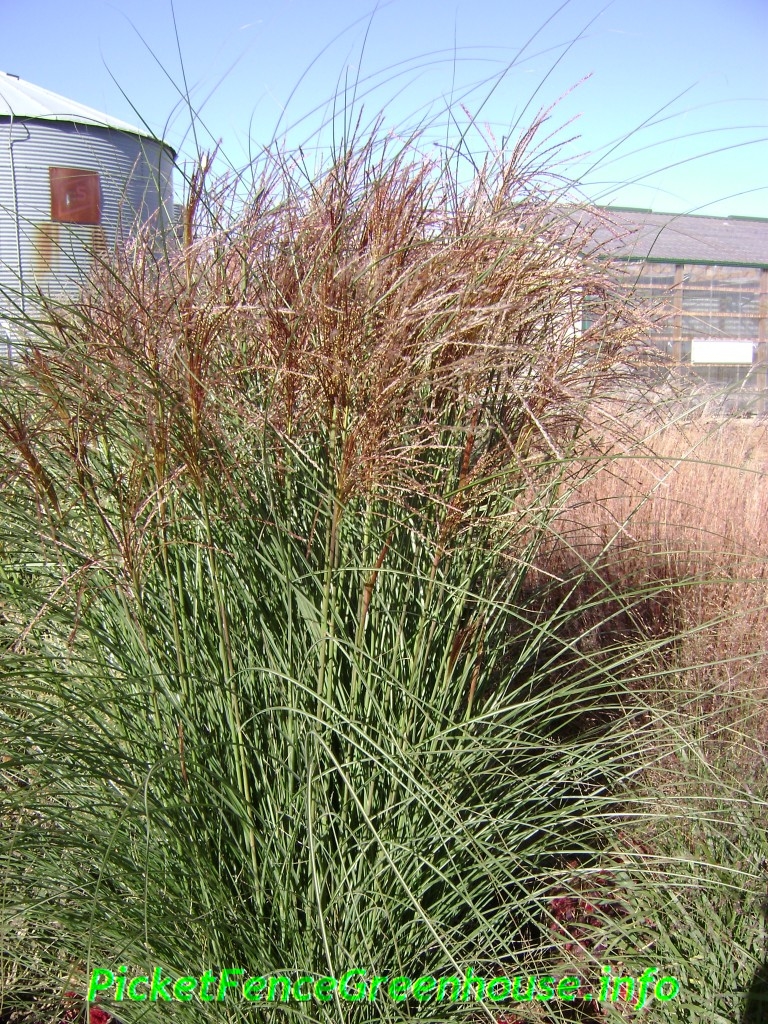 Miscanthus sinensis Gracillimus Maiden Grass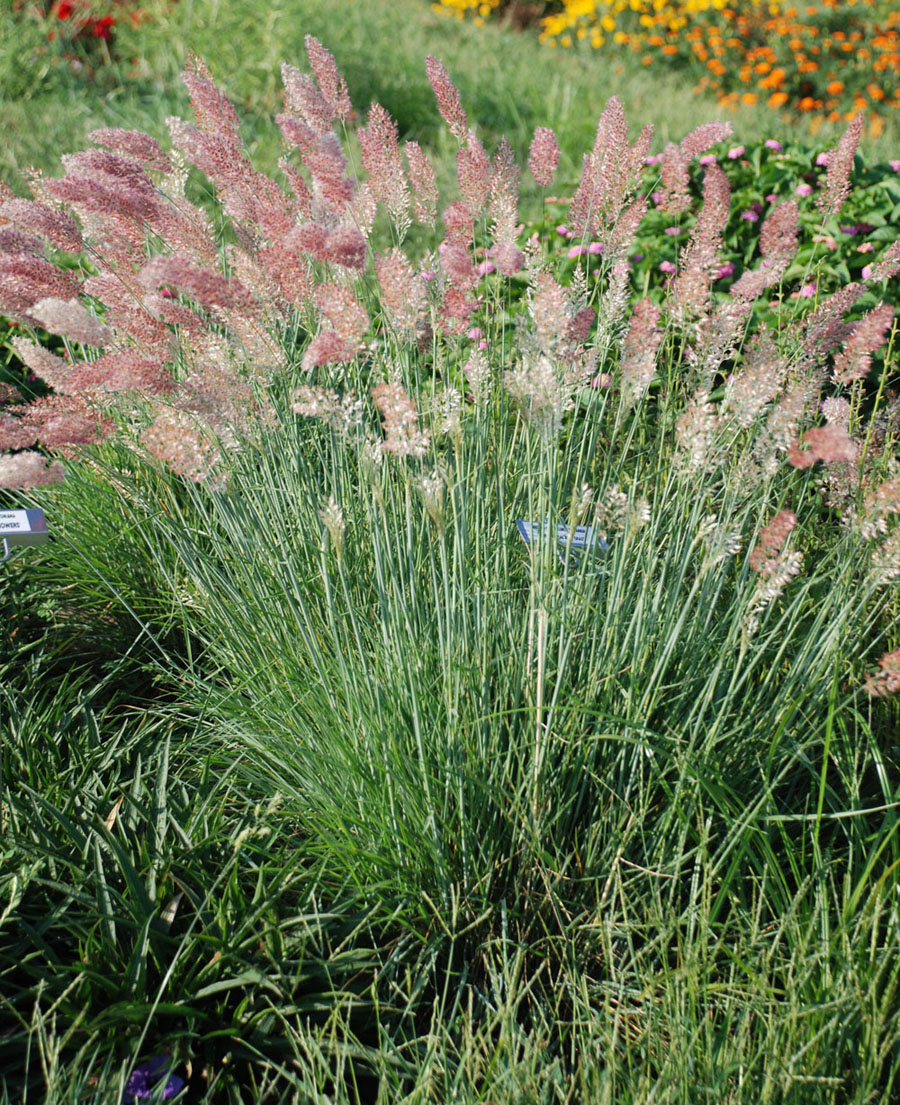 Melinus Nerviglumis Savannah Ruby Grass – Annual in My Area
Melinus Savannah Ruby Grass
This clumping grass has beautiful, amethyst-pink flowers that open up into fluffy 10 inch long plumes. Blooms carry well into fall. Excellent container and garden specimen. Use as an annual or fall display in colder climates. Works great grown singly, or in groups.
Common Name: Pink Crystals,… Ruby Grass
Mature Height: 18-24″Flowering: Beautiful, fluffy pink plumes
Spacing: 18-24″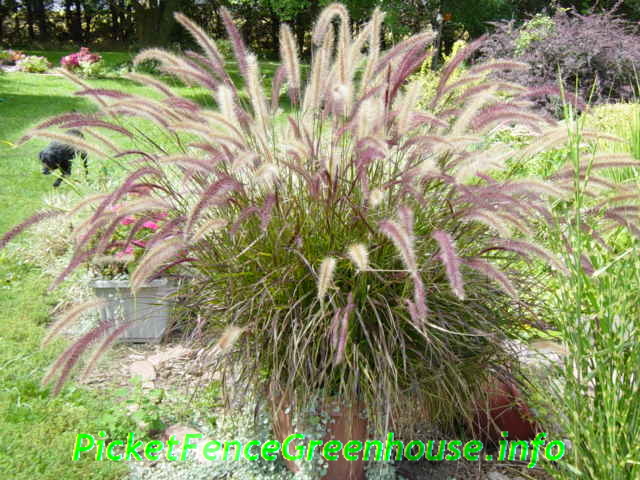 Pennisetum setaceum Rubrum Purple Fountain Grass -Annual in My Area
This grass in my opinion out shines any perennial grass in  our area. It looks  great in pots alone  or planted in the ground amongst other green grasses . Purple Fountain Grass looks good all season and it easy to care for.
It has a upright arching. Waves of gracefully nodding soft purple plumes arch up and out from burgundy-tinted foliage in true fountain grass form.
This variety is especially dramatic in  when growing in clusters, creating mass plantings, or along slopes.  A favorite for fresh or dried arrangements. Pest and disease-free
Features
Bronze-purple foliage topped with graceful arches of burgundy-toned seed heads
• Best Seller
• Cut Flower
• Deadheading Not Necessary
• Dried Flower
• Grass
• Heat Tolerant
• Landscape Plant
Hardy to 20 degrees .. Annual except in zones 9 – 10
Plant  in sun to part sun, and grows  36 – 48″ Tall
This is a must have grass even thou it may only be a annual it will out perform any perennial , because of it's  blade color and beautiful plumes.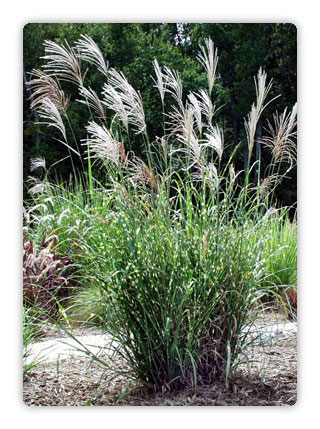 Miscanthus sinensis  'Zebrinus' Zebra Grass
Zebra Grass is a huge favorite of mine and well deserving.. It is a beautiful upright clumping ornamental grass.  This type of grass has a arching habit . It is marked by conspicuous horizontal bands of yellow on the foliage.  In summer those bands can have the appearance of red blotches.. Very Pretty!
The plumes Produces copper colored flowers in mid September. This is a must have grass.. It does also tolerate some shade in our area.. This is a warm season grass , the grass will grow to  7 feet,- 8 feet with flower, sun, dry, flowers September, Zones 5-9, Origin: Asia
Tips: Make sure you water in well if you have a dry fall .. this will help it to not die back, and protects it thru the fall and winter months Zebra Grass is really a nice fall and winter accent plant.. It is best in my opinion to leave the grass alone till  spring,  this also  aids protection and winter interest to  your landscape

Calamagrostis brachytricha -Korean Feather Reed Grass
This is a warm season grass meaning it prefers warmer temperature growing areas. This grass produces feathery pink plumes in the fall .  Appears to be a clumpy grass  Can handle some shade but also tolerates the hot summers of the South.  Best planted in spring or fall months..
Make sure this grass gets adequate moisture until established or if planted in full sun . Beautiful as a specimen plant or planted in masses..
Grows to 3 ft , 4ft with Plumes.. Plumes in late summer to fall .
Grow in Zone 4-9
This grass is a beauty! Now another one of my favorites to add to my collection.
Tips: If you live in a hot  location , make sure this grass gets water regularly
Schizachyrium scoparium Little Bluestem
My photo (top) , look at the coloring late fall..(bottom photo spring color)
This cultivar of the prairie grass, Little Bluestem, has stunning blue foliage accented by red stems. As fall progresses, an exciting mix of colors appear: purple, orange, and many more shades of blue. It grows in a mostly upright, clumping form, and it prefers poor soil to soil that is rich and fertile.
Elegant seed heads complement the narrow foliage in late summer. In full sun, The Blues remains stiffly upright; too much shade, fertilizer or water may cause it to flop.
The Blues is sought after for its wonderful color display and easy-care properties.
This is a  Warm season grass ,  the blues is a multi-colored foliage
Grows 2 feet, 3 feet with flower
Plant in sun
Plume flowers  in September
Zones 3-9, Origin: North America
Panicum virgatum 'Shenandoah'
This is a spectacular red switchgrass.  A favorite perennial grass that I love to see each and every year.
Its upright foliage becomes red tinted during the growing season, culminating in a dazzling red-leaved show in fall.
Panicums are renowned for their drought tolerance and ease of maintenance.
They also provide food and shelter to wildlife.  It is great to leave the grass at it is , as it adds winter interest and shelter to animals and birds.
Its red foliage makes it a good substitute for Japanese Bloodgrass.
Panicum virgatum 'Shenandoah' (my photo)
Shenandoah is a warm season grass ,  with red and green foliage.
Grows 3 feet, 4 feet with flower
Plant in sun,  flowers  in July
Zones 4-10
Origin: North America, Central America
Miscanthus Little Zebra Grass
Little Zebra Grass features spectacular gold and green stripes and a pleasing,  nice compact, mounding habit.
In early fall, this spunky grass sends out attractive reddish, fan-shaped blooms that are held one foot above the foliage.
The plumes change to a creamy tan color providing winter interest in the landscape.
The shape and size makes  Little Zebra Grass  the right proportion for small gardens, patios and decks. Its decorative leaves earn it a favored spot in large planters and urns.
This is a sturdy dwarf Miscanthus that holds its shape; it is unlikely to reseed because of its late blooming characteristic.
This is a  warm season, variegated foliage, thin bladed grass. Very attractive!
Grows 3 feet, 4 feet with flower
Plumes  flower seed heads  in  September
Grows in  Zones 4-8, however , they do not always winter in my area .. so can also treat as a annual
Origin: Asia
I love this grass, but wish it was a tad more hardy for my area.. I have moved this grass to see if that may help for the next season , so time will tell.. It is a well worth having in your choice of plants for the upcoming season.
Panicum virgatum 'Dallas Blues' PPAF
This stunning Switchgrass stands out in the landscape with its striking physical attributes: blue, three-quarter-inch-wide leaves and billowy pink-colored, seed heads.
It is a native cultivar that makes an excellent substitution for large exotic grasses.
Switchgrasses are known for being drought tolerant and undemanding about soil. They also provide food and shelter for birds and wildlife.
Leave this grass in the  winter months to aid in shelter and winter interest , then in spring  cut back before new growth appears.
This is a  patented native cultivar  that was discovered by Ken and Linda Smith of Smith's Garden in Ohio.
Dallas Blues is a  warm season grass , that is a  beautiful bright blue foliage grass.
Grows to a height 5 feet, 6 feet in flower, sun, dry, plume flowers in  July.
Plant in Zones 4-10
Origin: North America, Central America
I love this grass for it's color most of all, adds great interest to your beds .
Panicum virgatum Hanse Herms Switch Grass
Green in the summer, this two-foot cultivar turns a magnificent red in the fall, especially in Northern gardens.
Good for mass plantings. Very drought tolerant.
Hanse Harms is a  warm season grass , with  green foliage
Grows to a height of  2 feet, 2.5 feet with flower, sun, dry,
Plume flowers in July, beautiful airy plumes .
Likes  Zones 4-10
Origin: North America, Central America
This is a nice grass if you are looking for a grass that spreads nicely.. Give it sun to bring out the redness in late summer into fall.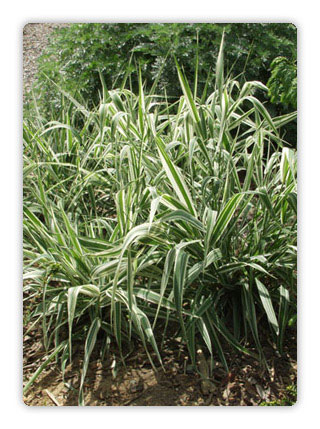 Phalaris arundinacea 'Picta' -Ribbon Grass
Ribbon Grass is a love or hate grass.. I say this because that is a true statement.. I have customers that love it because of the way it spreads and I have customers that thought to themselves  oh my god why did I plant this .. hehe.  Whatever it may be, it is a great grass you just have to put it in the right place to let it spread with no boundaries set.
Ribbon Grass is Tough and undemanding, and will solve most erosion problems.
This amazing plant spreads quickly by rhizomes, and forms a dense mass that even the most persistent weeds find difficult to penetrate.
It is a great plant to use when an expansive, spreading ground cover is required.
Ribbon Grass is sometimes called Gardener's Garters, referring to the long, flat, wide variegated green and white striped leaves. It is one of the first plants that comes up in the spring, beautiful as it spikes out of the ground.
A cool season grower, this plant should be cut back in the summer to produce fresh variegation. It prefers wet areas and can be submerged in shallow water.
Features: Ribbon Grass like the  Cool season and  it has beautiful variegated foliage.
Grows to  3 feet, 3.5 feet with bloom, and likes average-wet soil.
Plant in sun-part shade area and  flowers in  June.
Extremely Hardy in  Zones 4-8
Origin: North America, Europe
You decide if this grass if for you.. like I said give it room and let it go..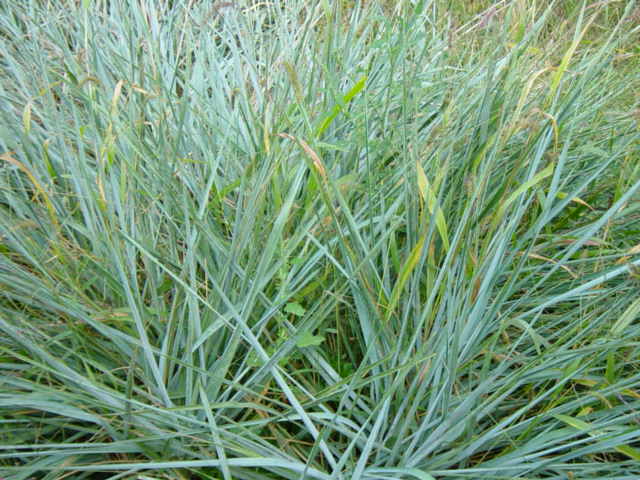 Leymus arenarius Blue Dune'
This is a beautiful blue colored grass, but take note it will spread and it requires some room for growth.
This bright-blue cool season grass maintains its coloring throughout the growing season, even in Southern gardens.
It is native to western Europe where it can be found in sand dunes as well as in rich soil.
Blue Lyme Grass spreads by rhizomes, so it can be used as a tall ground cover, on hillsides and for controlling soil erosion.
In May, straw-colored seed heads appear on stalks 8-12 inches above the foliage.
Blue Lyme Grass prefers dry, sunny to part sunny  locations.
It is a  Cool season grass with  bright blue foliage.
Grows to a height of  2 feet, 3 feet with flower,  Plant in sun to part sun area .
Plume flowers in  May
Hardy to  Zones 4-9
Origin: Britain, Europe
If you are looking for a grass that spreads , this is your grass and it  adds nice interest as it's coloring has  a great feature  , adding contrast amongst other plants.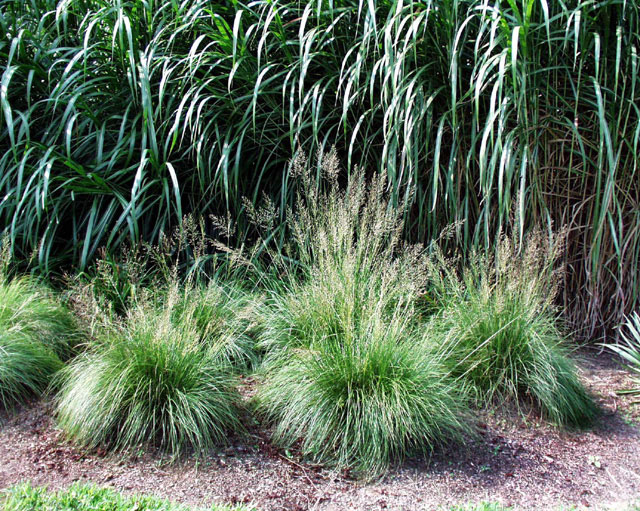 Sporobolus heterolepis -Prairie Dropseed
Prairie Dropseed was one of the major components of the Midwestern prairie, and it is now a popular landscape plant — with good reason.
It is perhaps the most ornamental of the native prairie grasses.
It grows in a clumping shape with deep green narrow leaves that arch downward.
In July it sends up numerous stalks with delicate, open panicles that shoot up over the clump.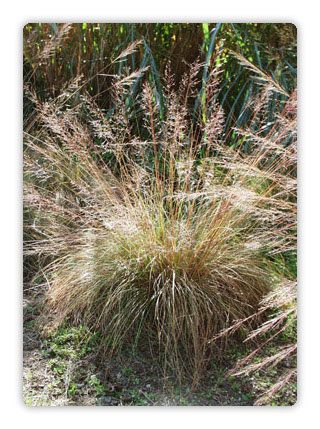 In fall, the foliage turns a beautiful coppery orange color that later fades to cream.
Prairie Dropseed emits an unmistakable aroma that some say resembles a cross between cilantro and fresh-roasted nuts.
Easy, beautiful and hardy to a wide range of zones, its flowing look is a great choice for borders or mass plantings.
Prairie Dropseed is a warm season  grass with  green foliage .
Grows to a nice height of 2 feet, 3 feet with flower,  grow in sun,  and will tolerant  dry conditions.
Like to plume  flowers in  July
Hardy in  Zones 4-9
Origin: North America
This is a nice stout clumping grass and really doesn't seem to need much care.  I have not noticed the aroma this grass gives off so this year I will be paying closer attention. I guess too many things going on in my gardening areas, just have to take time to smell the aroma.
Fall Color
Miscanthus 'Purpurascens' -Flame Grass
It is called Flame Grass because its foliage turns vivid reddish orange in the fall.
An erect clumping grass. In early fall, its magenta blooms turn white.
Flame Grass is beautiful in the smaller garden. Plant as a specimen or in small groups.
I am pretty impressed with it's fall color orange to yellow blades ,  here in Iowa , Simply Beautiful Grass!
Flame Grass is a  warm season grass with  green foliage, doesn't seem over invasive in my area.
Grows to  3 feet, 4 feet with flower, sun, dry,
Plume  flowers  In July
Hardy in  Zones 5-9
Origin: Japanese seedling
This grass does come back very well in zone 4/5 , and what I most remember about this grass is it's fall color.. Outstanding!
Andropogon gerardii 'Lord Snowden's Big Blue'
Lord Snowden Big Bluestem
Marvelous color and appealing shape are the first features one notices about Lord Snowden Big Bluestem.
Beautiful blue stems rise up four feet in a form that is more graceful than others in the Andropogon genus.
This native cultivar demonstrates extreme drought tolerance; it must be planted in dry, sunny spots where it will thrive on neglect. Watering or fertilizing too much will result in a less robust, very unhappy Lord Snowden, causing it to flop. Generally vigorous, this is a fast growing, strong plant that can be used in meadows, gardens, difficult areas and in masses.
Typical Andropogon gerardii seed heads emerge in summer to complete the look.
Lord Snowden is a  Warm season grass with blue foliage.
Grows to the height of  4 feet, 6 feet with flower, sun, dry conditions.
Plume flowers  in July-August
Hardy in Zones 4-10
Origin: North America
Calamagrostis xacutiflora 'Karl Foerster' -Feather Reed Grass
This grass is highly used for  gardening landscape areas.
This cool season clumping grass is one of our all-time favorites.
With an erect growth habit and late spring plumes, 'Karl' offers a good backdrop for low growing flowering perennials throughout the year.
Prefers sunny, dry locations and can tolerate heavy clay-based soil. A good screen plant that does not re-seed.
It is the first ornamental grass to receive the Perennial Plant of the Year Award (2001).
Karl Foerster is a Cool season grass with  green foliage.
Grows to 2 feet, 6 feet with flower,  and likes sun,  and dry conditions.
Plume  flowers  in May
Hardy in  Zones 4-7
Origin: Europe
Very nice erect grass, and does not invade , or spread , stays in a nice clump grass , and is one of  the most popular on the market today.
Isolepis cernua -Fiber Optic Grass
This is a cool looking grass I will finally carry this year 2010, however it has been around for a few years . It is a annual in our area zone 4/5 .
A full-sized Fiber Optic Grass is the highlight of any garden.
It has an abundance of bright green, long, narrow stems. Each stem ends with a soft tan yellow tip, making it look as though the plant is surrounded by thousands of tiny sparks.
Grows in a symmetrical, pendulous tuft.
Always looks great in a container or plant it in a protected area in a spot that allows the stems to spill over.
Evergreen in zones 8-10; it should be treated as an annual elsewhere.
Fiber Optic Grass is a  Warm season grass with bright green foliage
Grows to  1 foot, 1 foot with flower, likes sun-part shade area and  moist-average soil conditions
Hardy in Zones 8-10
Origin: British Isles, Europe, North Africa
I am excited to see this grass perform this season.
Acorus gramineus 'Ogon'-Golden Variegated Sweet Flag
Similar in size and growth habit to Variegated Sweet Flag, but has beautiful golden-colored leaves with green stripes. Brightens shade gardens and moist, sunny areas.
Acorus is a neutral grass. Evergreen or neutral grasses are usually plants that look like grasses but aren't actually classified as grasses, they are generally called grass-like plants.
Features
Butter-yellow sword-like blades add wonderful contrast all season; likes moisture
Perfect for containers, borders and beds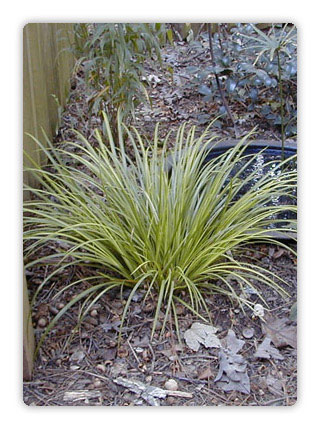 QUICK FACTS: Warm season, gold-variegated foliage
Grows to 15 inches, Plant in  shade-sun area and it likes  wet conditions.
Hardy Zones 5-10
Origin: Japan, China
This was a new grass-like plant I carried last season 2009 and I really thought it was quite unusual , mostly by the way it seem to lay.. It may a great backdrop to pots and added such color to containers.
Juncus effusus 'Unicorn' – Spiralis Rush
When compared to other curly rushes, Juncus effusus 'Unicorn' is more substantial in every way. It is deeper green and has more twirls; it is more vigorous, taller, and easier to grow.
It is a fun, interesting rush that is great to use around the borders of larger ponds or in gardens with average soil, where it will surely attract plenty of attention and elicit wide grins.
Juncus Spiral Rush's corkscrew-like foliage is highly valued in flower arrangements.
Juncus effusus 'Unicorn' is a selection of the University of British Columbia Botanical Garden. It was collected from the province of BC and was planted in the UBC Native Garden by Al Rose.
Juncus Rush is a  warm season rush with dark green foliage.
Grows 10-12 inches tall likes a  sun-part shade and wet-average  soil conditions..
More info:
This soft rush will perform surprisingly well in average garden soils as long as they receive consistent irrigation. Clumps are often slow to establish, but once established will spread by creeping rhizomes. Soft rush may be grown in tubs or containers sunk in the mud to control unwanted rhizome spread. Plants will also naturalize by self-seeding. In cold climates, clumps die to the ground in winter. Cut back old foliage in early spring
Hardy in  Zones 5-9
Origin: North America
Juncus Unicorn Rush is a very interesting plant , and I think it will be a conversation piece at the greenhouse .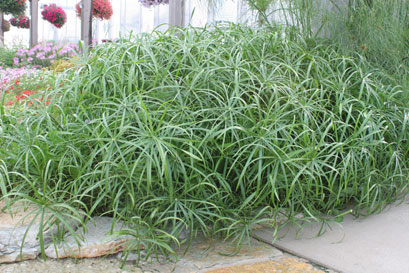 Cyperus Baby Tut Umbrella Grass
Baby Tut is an evergreen or neutral grass.  Evergreen or neutral grasses are usually plants that look like grasses but aren't actually classified as grasses, they are generally called grass-like plants.
Where temperatures get colder than 25 degrees F, the plants should be treated as annuals.
Once the grass turns brown it can either be removed immediately or removed in the spring. It should not be expected to live through the winter and begin growing again in the spring.
The plant can be planted in pots, along the waters edge of a pond, or even in a pond. The crown of the plant should never be covered in water and in fact both of these varieties can thrive in water as shallow as a few inches. The purpose is to keep the bulk of the soil or root mass wet.
The root ball can be submerged but it isn't necessary. If the plant is put into a pot I would suggest plugging the hole or holes in the bottom of the pot to keep as much water as possible in the pot
In areas where winter temperatures remain above 25 degrees it should be considered a perennial and the following information should be useful.
Uses:
Use in water gardens, landscapes and mixed containers
Features:
A water garden friendly-grass that can be planted in the landscape as well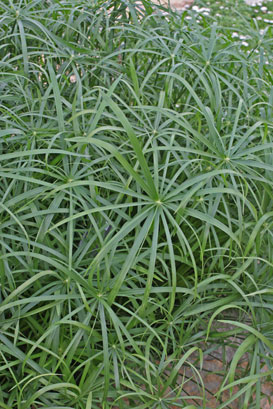 Plant in sun or partial sun area
Grows to a height of 18-24 inches tall.
Annual in most areas except Zone 9-11
Baby Tut has won numerous awards , and is related to King Tut, which is a larger version of the plant.
I have just the right place for this plant , right near my water garden area , this will really be an attractive addition.
Panicum virgatum 'Northwind' -Upright Switchgrass
A dependable upright habit and beautiful blue green foliage set this Panicum apart from other switchgrasses.
Northwind likes  drought tolerant conditions , but  it can also handle boggy soil conditions occassionally.
Beginning in August, a multitude of narrow, open panicles top the plant. One 'Northwind' in a garden creates a stunning vertical accent, while several planted as a backdrop form a dynamic structural look.
Upright Switchgrass was introduced by Northwind Perennial Farm of Wisconsin, and it has since become a very popular Panicum cultivar.
Northwind grows 4 feet, 5 feet in flower,  likes sun and wet-dry soil conditions.
Plume flowers  in September
Hardy in Zones 4-9
Origin: North America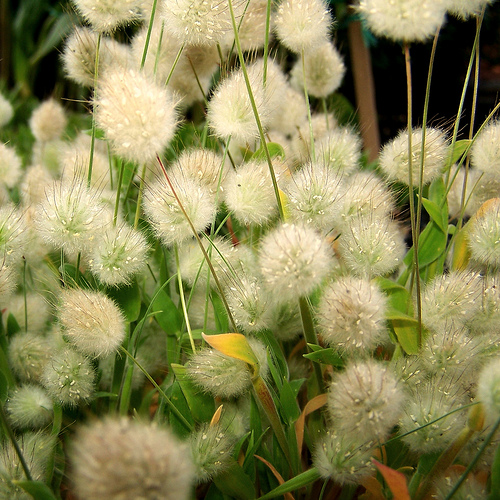 Read about it Here Bunny Tails