Red Stemmed Malabar Spinach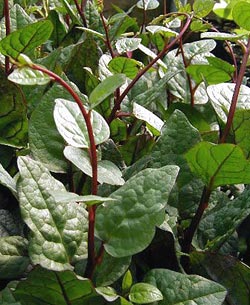 Red-Stemmed Malabar Spinach—A Deliciously Stunning Vine
This is a favorite and beautiful vine, it is hot-weather vegetables is red-stemmed Malabar spinach, Basella alba 'Rubra'.
Easy to grow, versatile in the kitchen, and delicious to eat, this vigorous vine is unrelated to true spinach (Spinacia oleracea) but produce…s abundant large meaty leaves that are remarkably spinachlike in taste and form.
Malabar spinach excels in warm, tropical areas, where it can easily grow a foot per day. It's intolerant of any chills; thus, the only regions in the U.S. where it would be perennial are the Deep South or southern Florida. Gardeners in colder climates can grow it as an annual.
The succulent leaves and stem tips are rich in vitamins A and C and are a good source of iron and calcium. They may be eaten raw in salads, boiled, steamed, stir-fried, or added to soups, stews, tofu dishes, and curries. Or you can use them as a filling for quiche, omelets, savory turnovers, and potpies. Since red-stemmed Malabar spinach can lose a lot of its red color when cooked, perhaps it is best utilized (visually speaking) in raw dishes.
Hardy in zones 7-11 Grows 10-12 ft high.
Happy Gardening
🙂
Diane Mumm
2 Opinions