Agrostis nebulosa Cloud Grass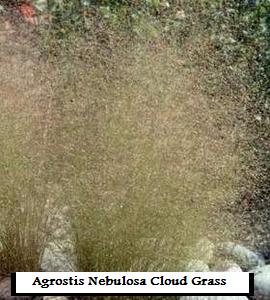 Agrostis nebulosa Cloud Grass
Cloud grass is a light, airy grass whose star-shaped panicles produce cloud effects.
Can be used in fresh or dried arrangements.
Plant in rows for cutting or in decorative groups.
Cloud Grass is drough tolerant. Suitable for xeriscaping.
Plant in full sun, grows 12-18 inches tall.
Did not find any zone recommendations.. so  treating as a annual at least for my zone.
To be honest I have never seen this grass,  may look similar to some other grasses but I found the seed and started some. Definitely will keep you updated on it's performance.
Happy Gardening
🙂
Diane Mumm