KALANCHOE pumila Silver Gray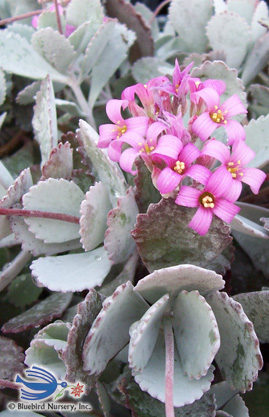 KALANCHOE pumila Silver Gray
Silvery-gray leaves with toothed margins at the tips; leaves have a rosy tint.
ilver Gray has a beautiful urn – shaped pink flowers in spring that really shines with the gray colored leaves.
Leaves are tinted with a dusty rose and have toothed margins at the tips.
• Adaptable as a Houseplant
• Drought Tolerant *
• Heat Tolerant
Uses in Containers, beds, borders, mixed dish gardens.
Grows to a height of 6-10  inches and Plant likes sun.
Hardy to 25 degrees, plant as a annual or houseplant except in Zone 9-11
I love Succulents, make sure you have well drained soil , you  can purchase soil just for succulents . I have had success with a mix of peat, perlite.  Don't use anything too heavy..
Happy Gardening
🙂
Diane Mumm