Proven Winners Bidens Goldilocks Rocks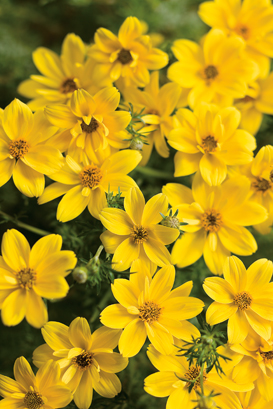 Bidens Goldilocks Rocks
New introduction in the Biden family for 2011.
Yellow flowers just brighten any situation , make everything a little more sunny , and puts a smile on your face.
Features
Vigorous, heat and drought tolerant; bright gold flowers spring to fall.
• Best Seller
• Deadheading Not Necessary
• Drought Tolerant *
• Heat Tolerant
• Landscape Plant
• Low Maintenance
• New
Grows to 12-14 inches tall, has a mounded habit making it great as a filler in pots, and hanging baskets, and or combinations.
Usually planted as a annual except for zones 9-11, Hardy to 30 degrees, and loves to be planted in sun.
Looking for a bright sunny flower then Biden Goldilocks Rocks may be your answer, and what is not to love , the name says it all..
Happy Gardening
🙂