Proven Winners SuperTunia Vista SilverBerry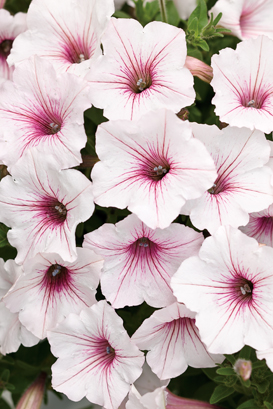 SuperTunia Vista Silver Berry
If you love petunias and are tired of the same ole upright falling over old varieties, and seem to need trimming throughout the season , then SuperTunia's may be the answer .
My observation to these plants is they are outstanding in pots , baskets and landscapes. They really outdue any other petunias on the market in my opinion but you will have to try them yourself to develop your own opinion.
Let's talk about the new Vista  Silver Berry SuperTunia , this  variety  has been on the market a few years and the Vista series is a vigorous growing variety.
Features
Vigorous, mounding plants are perfect landscape fillers, blooms all season, low maintenance.
• Attracts Butterflies
• Best Seller
• Deadheading Not Necessary
• Heat Tolerant
• Landscape Plant
• Low Maintenance
• New
• Pet Friendly
 Considered a filler plant as it has a mounded shape , that grows from 16-24 inches tall and trails to 60 inches.  Holy Smokes ! You can see this  petunia may suit your needs in more ways than you can ever imagine.

Treated as an annual except for Zones 10-11 , Plant hardiness 30 degrees and likes a sun location.
Self-cleaning, no deadheading necessary, this is not necessarily true of all petunias.
Fertilize often for best summer performance. Fertilization is a key component for having the very best looking petunias. They love to be fed!
Looks great in containers, combinations, and landscapes.
Post a comment if you have tried this variety, like to know your thoughts and opinions on it's performance.