Alternanthera Grenadine Calico Foliage Plant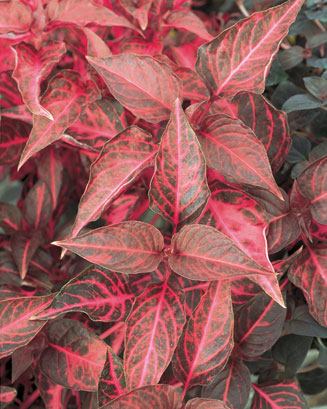 Alternanthera Grenadine
One of the things that you may look  for in a plant is color, color all season regardless of a bloom or not.
Adding color and contrast really can make a container "pop" so to speak. Really shine and make people ask what is that plant.
Alternanthera Grenadine also known as the calico plant may be a plant worth exploring. Foliage plants are becoming more and more popular in container plantings and really in all types of plantings.
When it may be hard to find plants that add color in a part shade to shade area,  Alternanthera Grenadine will and does carry it's color throughout the season in just this area.
Features
• Best Seller
• Foliage Interest
• Heat Tolerant
• Landscape Plant
Alternanthera Grenadine grows 12-18 inches tall. Is considered a Thriller – Used either in the back or middle of a container. Usually a taller item that adds height and drama to the container.
Plant usually as a annual except for Zones 9-11, Hardy to 25 degrees.  Loves a partial shade or shade area.
Looks great in Landscapes and containers. Use in beds, baskets and containers.
Side Note: I am loving this new Alternanthera , showing it's brilliant color all season. Doesn't always have to bloom to look pretty.  Foliage plants  are fantastic,  pretty much everywhere they are planted. Can't wait to see it's performance in Spring of 2011.
What do you think? Place a comment below , love to hear from you.. 🙂