Heucherella Golden Zebra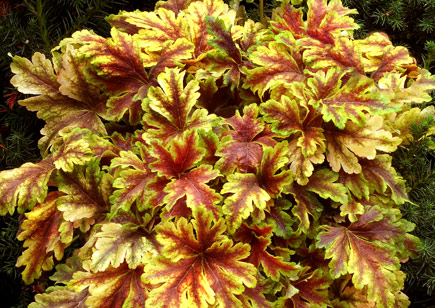 Heucherella Golden Zebra
New for 2010  is this eye catching Heucherella.  This perennial plant is a cross between a heuchera and a tiarella.
What beauty is unfolding right before your eyes.   This Heucherella has beautiful shaped leaves with a combination of 2  colors .
Bright yellow, feathery leaves are boldly marked with dark-red.
A standout in containers or "Front and Center" of the border.
Heucherella is so much like Heuchera as you get color all season long.  They have a mounded habit
Grows 15″ w/8″h/18″ is the flower height
Hardiness zone is 4-9
Likes to be planted in a part shade to shade area.
White flowers appear in spring.
Use in Container, for contrast, edging in shade or woodland garden, mass, mixed planting, under shrubs.
Look for this beauty , and remember Heucherella add color and interest all season.. Such a unique color to add to your landscape.
Happy Gardening