Hosta Paradigm 2007 Hosta of the Year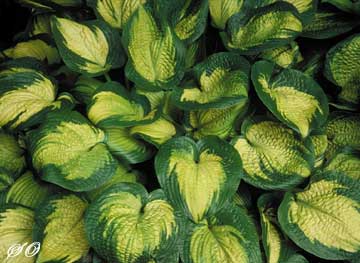 Hosta Paradigm
Hosta Paradigm is one special Hosta.  This leave pattern is one that will catch your eye.. So  outstanding that it was chosen as 2007  Hosta of the Year.
This super sport of 'Abiqua Recluse' has beautiful gold leaves edged with a blue-green margin. The variegation pattern intensifies later in the spring.
A Walden West introduction , this hosta was formingly known as Abiqua Paradigm.
Purple lavender flowers in summer and classified as a large hosta.
Leaves are of good substance and corrugated, making them slug-resistant.
Grows in zones 3-8- 9 with 20 inches high and 3 foot spread.
Hosta like a part shade to shade area.
Diane's Notes: This was another new one I purchased in 2010, and I was impressed with it's color in a liner size. I am loving yet again another Hosta.. This one should be available spring 2011 if all goes well. I hope to get one in the ground for show some time , as that is the best way is to see them growing .
Do you have this Hosta, if so post a comment.
1 Opinion