Echeveria Blue Rose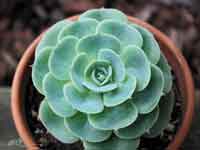 Echeveria Blue Rose
New  2011 to my greenhouse  will be this  beautiful  Echeveria Blue Rose succulent , looks perfect in this picture setting. Don't you think?
Stated to  be one of the most popular echeverias on the market today. 
Featuring beautiful centered saucer like rosettes , and deep blue ovate leaves. Bloom time is  in Spring/Summer months.
Plant in  bright sunlight in a very porous cactus like soil. Do not let get water logged and protect from cold and frost temperatures. Water when dry to the touch only.
Hardy in zone 10 with a minimum temp of 36 F, so just a annual in many parts of the states, but would  be worth a try to bring in and winter indoors.
As echeveria can stretch more indoors keep them a little cooler with bright light conditions.
Use blue rose as a patio plant, or in a rock garden area .
This succulent will do well  in combination planting  with other succulent species. I am pretty excited to grow and see how well they do in a greenhouse setting.
Let's Dig in some Dirt!
Diane Mumm